European institutions
EuroCOP delegation attends meeting of the Council of the EU's Law Enforcement Working Party (LEWP)
On 3 November, EuroCOP representatives attended a special session of the Council of the EU's Law Enforcement Working Party, for which the agenda is available here. In attendance were Calum Steele, Unn Alma Skatvold, Jonne Rinne and Nigel Dennis. The LEWP is composed of officials from all 27 EU Member States who negotiate legislation on policing and security issues, including cross-border policing and related operational issues.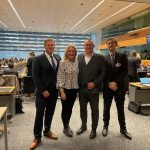 In a highly fruitful discussion, EuroCOP introduced a focus on two central issues of concern to its members across Europe. Firstly, Calum Steele noted that there is a growing epidemic of violence against police officers. Mr Steele cited data from different Member States indicating that numbers of incidents are rising, and stressed the need for a common EU approach to mitigate the problem – including a centralised EU-wide repository of data on incidents, in order to inform police training, as is already taking place in the UK via Operation Hampshire, and in the United States through LEOKA, a project undertaken by the FBI. Secondly, Mr Steele pointed to the far-reaching effects of green crimes, and how the impact of climate change will be most pronounced for police officers, who are society's front line protectors against civil unrest and problems stemming from population displacement.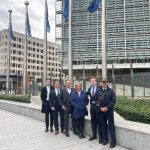 Member States were pleased to welcome EuroCOP to the LEWP and thanked them for the opportunity to hold a dialogue on these matters. The Czech Council Presidency also noted that they had not discussed these issues in the past. In particular, EuroCOP's suggestion to hold a specific debate on how to curb violence against police officers was welcomed by the Slovenian delegation.
High-level law enforcement representatives meet at European Police Chiefs Convention to discuss security challenges
On 4 and 5 October, key law enforcement representatives from the European Union and partner countries met at the European Police Chiefs Convention (EPCC) within Europol's headquarters to discuss the security challenges the European continent is currently facing, and ways to address them. During her opening speech, Europol Executive Director Catherine De Bolle stressed that given the current context of uncertainty, it is vital to not only counter the threats Europe is facing, but also build resilience through enhanced law enforcement cooperation at every level. Regarding the war in Ukraine, De Bolle reaffirmed the full support of the European law enforcement community to Ukrainian authorities. Keynote speakers at the Convention also highlighted the need for more innovation in law enforcement as it has to operate in an ever-evolving digital environment: delegates notably welcomed the European Commission's initiative to regulate Artificial Intelligence (AI) and discussed the potential criminal exploitation of the metaverse as well as tools to mitigate it. (link)
Country News
Other News
EU imposes sanctions on Iran's morality police
Following the arrest of 22-year-old Iranian Mahsa Amini by the country's morality police and her death in unclear circumstances while she was in custody, massive anti-government street protests erupted in Iran. Those protests were welcomed by a government crackdown, which the EU condemned for the "widespread and disproportionate use of force against peaceful protesters" while imposing sanctions on the Iranian morality police by freezing assets of police officials as well as the country's Information Minister. Moreover, those officials have also been banned from travelling in Europe.  Other countries like the United States, the United Kingdom and Canada have also announced their own sanctions against Iran for human rights violations taking place during those protests. (link)
Europol publishes report with key recommendations on how law enforcement should approach the metaverse
On 21 October, Europol's Innovation Lab published a report providing a first look into the main challenges revolving around the metaverse from a law enforcement perspective. Back in June, the Innovation Lab organised an event on this topic which gathered academics, law enforcement experts and industry actors to share their views on the risks and opportunities of the metaverse. Based on this input, the present report provides an overview of the potential criminal activities that could occur within this new digital space, as well as best practices for law enforcement authorities to stay ahead by building an online presence and engaging with metaverse platforms developers. (link)
Look Ahead
7 November: CEPOL hosts a webinar providing information about the Live Distance Child Abuse (LDCA) and ways to tackle this type of crime. More information here.
14-18 November: CEPOL is hosting an online course on International Law Enforcement Cooperation and Information Exchange related to organised crime and terrorism. More information here.